Try a Free Organic Natural Fiber Sample by Nusyllium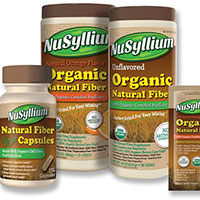 NuSyllium Organic Natural Fiber is the psyllium fiber supplement of choice for maintaining a healthy organic lifestyle. Whether it's for maintaining digestive health and regularity, lowering cholesterol levels, maintaining healthy blood sugar levels or for weight management, the 100% USDA certified organic psyllium fiber in NuSyllium is the smart choice.
Psyllium fiber comes from the outer coating or "husk" of the Plantago ovata plant's seeds, not from wheat, making it naturally gluten free. Psyllium is a natural and soluble form of fiber known to promote regularity and act as a laxative.
Psyllium soluble fiber, taken as a dietary supplement, has multiple health benefits supported by existing scientific research. These include helping to support a healthy digestive system, maintaining healthy blood sugar levels, reducing the risk of cardiovascular disease by lowering blood cholesterol levels, and as a weight management tool, by keeping you feeling full between meals.
Categories: Free Food and Drink Samples Free Health Samples
How can I get this FREE sample?
The only thing you need to do in order to try a free organic natural fiber sample by nusyllium, is simply click "Get a FREEBIE," and the free offer will be opened in a new tab.
Just follow the instructions provided by a company or brand, which is responsible for this free sample, and you will receive your free stuff right to your mailbox.
More Free Samples In The Same Category
TOP 10 Exclusive FREE Samples