Get Your FREE Full Size Aurelia Probiotic Skincare Revitalize & Brighten Eye Dew Sample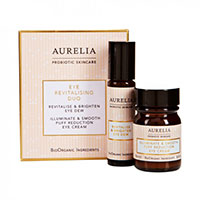 You should hurry up since this FREE offer concludes on May 28, 2019.
HURRY! 3,500 FULL SIZE AURELIA PROBIOTIC SKINCARE REVITALISE & BRIGHTEN EYE DEW SERUMS UP FOR GRABS!
WE'VE TEAMED UP WITH AURELIA PROBIOTIC SKINCARE TO GIVE AWAY 3,500 FULL SIZE SAMPLES OF THEIR REVITALISE & BRIGHTEN EYE DEW, WORTH £42 EACH.
Heads up: this is a giveaway that you need to say 'eye dew' to (apologies). First off, we've teamed up with one of our favourite homegrown skincare brands Aurelia Probiotic Skincare to nab you lot a whopping 3,500 full-sized Revitalise and Brighten Eye Dew Serums, worth £42 each, and secondly the serum and cooling applicator come into their own during the warmer months and hayfever season in particular.
Categories: Free Samples For Women Free Beauty Samples Free Skincare Samples Free Cosmetic Samples
More Free Samples In The Same Category
TOP 10 Exclusive FREE Samples