Claim Your FREE Dead Punk Sticker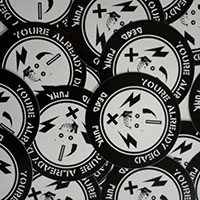 Please, don't miss the pop-up, which appears when you visit the products page on this website for a first time.
YOU'RE ALREADY DEAD!
Yes, you read right! You're already dead and I am going to send you a free sticker pack for signing up to my mailing list. By signing up you will also get exclusive first look at new works before I put them up for sale on my website or instagram and exclusive discount promo codes.
Categories: Free Magnets and Stickers
More Free Samples In The Same Category
TOP 10 Exclusive FREE Samples