Claim Your FREE Dieterich's Hot Sauce Sample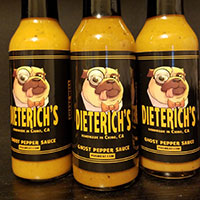 Dieterich's Hot Sauce sample requests. I can only ship out a few hundred this week but all requests will be fulfilled eventually. Full bottles available at pugmeat.com. I can't afford international shipping yet but sign up anyway, I'll get there eventually.
A unique hot sauce made with superhot peppers, fresh vegetables and our homemade spice blend. Handmade in small batches in Chino California. We use fresh ingredients and small batches so color and heat will vary slightly from batch to batch but the flavor is always the same.
Categories: Free Food and Drink Samples
More Free Samples In The Same Category
TOP 10 Exclusive FREE Samples