Try your hand at Martian Gardening for free!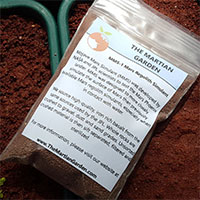 FREE SAMPLES. Try your hand at Martian Gardening for free! Please note: Due to shipping expenses, we are only able to provide free samples to customers in the United States. Each sample includes 100 grams of Mojave Mars Simulant. Limit one free sample per shipping address.
At The Martian Garden, we believe that the single most important element in the Journey to Mars is the support of the public. Without an informed and enthusiastic public base of support, humanity may never reach Mars.
No Martian Soil - or "Regolith" - has ever been returned to Earth. In order to help develop missions to Mars, NASA and JPL Scientists have developed simulated Martian soils known as Mars Regolith Simulants.
We don't know why do you need this item, but why don't try it for FREE???
Categories: Free Household Items
How can I get this FREE sample?
The only thing you need to do in order to try your hand at martian gardening for free!, is simply click "Get a FREEBIE," and the free offer will be opened in a new tab.
Just follow the instructions provided by a company or brand, which is responsible for this free sample, and you will receive your free stuff right to your mailbox.
More Free Samples In The Same Category
TOP 10 Exclusive FREE Samples