Try Out Derma E Acne Deep Pore Cleansing Wash For Free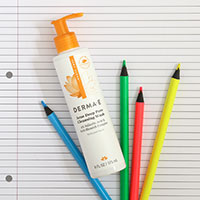 Try Our Acne Deep Pore Cleansing Wash! Sign up for our mailing list and for a chance to be one of 3,000 to receive a sample of our top-selling Acne Deep Pore Cleansing Wash!
Gently remove built-up oil and debris, help unclog pores and clarify skin while reducing redness and irritation with this daily cleanser. With an Anti-Blemish Complex of natural ingredients Tea Tree, Willow Bark, Rosewood, Lavender and Chamomile shown to be very effective on blemish-prone skin, this formula delivers natural antibacterial and antiseptic properties leaving skin purer, clearer and healthier.
Categories: Free Samples For Women Free Beauty Samples Free Skincare Samples
More Free Samples In The Same Category
TOP 10 Exclusive FREE Samples