Request Your FREE Water Saving Freebies by Thames Water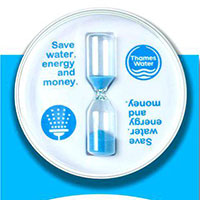 This FREE offer is available for the UK residents only. Please bear this fact in mind.
Order your freebies. Save water, energy and money with our free devices. Order now by entering your postcode to see if you live in our supply area.
Every day, we serve 15 million customers across London and the Thames Valley. Our free devices can help you save water, energy and money at home You can enjoy lower energy bills from heating less water, and our metered customers will save on their water bills too. From showerheads, to save-a-flush devices and inserts for your taps, there are lots to choose from. They're really simple, easy to fit and best of all they're completely free for our residential supply customers.
Categories: Free Household Items UK Free Samples
How can I get this FREE sample?
The only thing you need to do in order to request your free water saving freebies by thames water, is simply click "Get a FREEBIE," and the free offer will be opened in a new tab.
Just follow the instructions provided by a company or brand, which is responsible for this free sample, and you will receive your free stuff right to your mailbox.
More Free Samples In The Same Category
TOP 10 Exclusive FREE Samples