Request Your FREE Tasty Bite Green Bean Seeds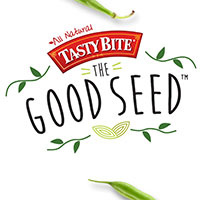 HOW DO I CLAIM MY SEEDS?
Step 1: Find the Food Pantry nearest you.
Step 2: Give us your address so we can mail you seeds.
Step 3: Follow us on Instagram and Twitter.
Step 4: When you receive the seeds, post your pics and videos on Twitter or Instagram using #GOODSEED.
Being a good seed is all about paying it forward. See, we give you a free packet of organic green bean seeds so that you can grow them and then give them. This year, we're giving away 35,000 organic green bean seeds online, while supplies last. But the goodness doesn't stop there, because we're giving away a one year supply of Tasty Bite® to one lucky winner that posts pics or videos showing their progress using #GOODSEED.
Categories: Free Household Items
More Free Samples In The Same Category
TOP 10 Exclusive FREE Samples