Request your FREE NeilMed Sinus Rinse Neti Pot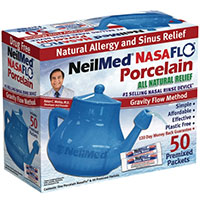 GIFT of NeilMed Sinus Rinse™ or NasaFlo® Neti Pot for Cystic Fibrosis patients.Products were developed by Ketan C. Mehta, MD, a pulmonary medicine specialist and founder of NeilMed Pharmaceuticals. NeilMed Sinus Rinse is # 1 physician recommended and # 1 selling product in the USA and Canada when it comes to Squeeze bottle system for nasal irrigation.Existing fans who have already requested are not eligible. Repeat and incomplete requests will be discarded. Please allow at least 30 business days for delivery of product.
Follow the steps below to receive your Free Sinus Rinse™ Bottle or NasaFlo® with two packets.
Click on the link below
Complete the product training application & view the instruction video till the end
Complete the questionnaire followed by the video. Score a minimum 18 out of 20
Get confirmation email
Categories: Free Health Samples
More Free Samples In The Same Category
TOP 10 Exclusive FREE Samples