Request your FREE Natural Vitality Calm Experience Sample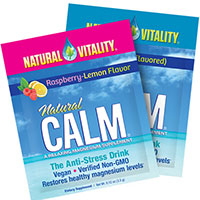 Feel the CALM Experience. Please provide us your mailing details to receive (1) Natural CALM packet, plus, a bonus coupon in the mail.
What Does Natural Calm Do?
Natural Calm is a fruity, effervescent drink that promotes healthy magnesium levels and balances calcium intake—helping you to feel less stressed and more relaxed. Good health is all about balance. A delicate balance must be maintained between the levels of magnesium and calcium in your body—especially at a cellular level. For example, calcium makes muscles contract, while magnesium allows them to relax.
Natural Vitality Mission Statement. To provide premium and efficacious products that have a valid and unique reason for being. Our mission is not to compete but to fill a need that has not been met or to meet a need that has not yet been recognized. Our objective in producing and marketing products is to make life easier for our customers and help lessen stress in their lives. Our view of health is that all departures from wellness have stress at their root.
Categories: Free Health Samples
How can I get this FREE sample?
The only thing you need to do in order to request your free natural vitality calm experience sample, is simply click "Get a FREEBIE," and the free offer will be opened in a new tab.
Just follow the instructions provided by a company or brand, which is responsible for this free sample, and you will receive your free stuff right to your mailbox.
Disclaimer
Please note, TVGist is not responsible for free samples presented on the website. In order to request your free natural vitality calm experience sample you should visit the official website of the company, which is fully responsible for the product delivery and its quality. Our mission is to provide you actual links to the free stuff. You need to follow the instructions provided on the official website of the manufacturer of the free sample you desire to obtain. If the free sample delivered to you didn't match your needs, please contact the company, brand, or manufacturer, which is responsible for their products.
More Free Samples In the "Free Health Samples" Category
TOP 12 Exclusive FREE Samples