Request your FREE HDIS Incontinence Sample Pack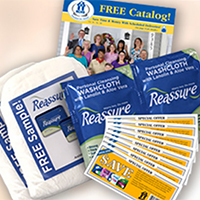 Worry Less, and Do More - with Reassure®. Reassure® is a leading brand of bladder control products, available exclusively from HDIS.
Since 1993, Reassure® has been listening to customers about their needs for managing the loss of bladder control. We know that you want more protection, greater comfort and better fit - so we have strived to create products that surpass those expectations. Thanks to customers like you, Reassure® has been able to fulfill the goal of providing the perfect products for managing incontinence.
Just listen to what people are saying about Reassure®:
"Better than anything I've tried before ... and I've tried everything"
"Made me feel secure enough to attend my niece's wedding. I can't thank you enough."
"These pads are great. I'd buy them even if I had to pay more, but they actually cost less than the big-name brands."
With Reassure®, you'll find the most complete line of adult bladder control products, so you can find the right products that answer your needs. Even better - Reassure® products are backed by a 100% no-questions-asked guarantee - if you are not satisfied for any reason, simply contact us for a refund. We're certain that once you try Reassure®, you will be able to "Worry Less and Do More!"
Categories: Free Hygiene Samples Free Incontinence Samples
More Free Samples In The Same Category
TOP 10 Exclusive FREE Samples