Receive Your FREE Azunia Reusable Metal Straw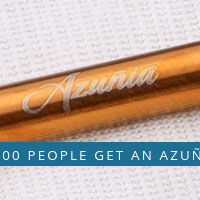 At Azunia Tequila, we're proud to produce USDA-Organic products without chemicals or additives and have a deep heritage of sustainable farming. We honor that heritage by doing our best to connect our values to yours. In keeping with our commitment to our artisan and honest process, we're leading this initiative, with the hope of reducing millions of plastic straws that are thrown away across the U.S. every day by encouraging people to choose to make a small change. Stainless steel straws are a great reusable, recyclable alternative to plastic straws.
Accept our #noplasticstraws365 challenge by clicking "Take the Challenge." Your action will encourage others around you to join in! Together we can reduce the unnecessary build-up of billions of straws in landfills and the ocean.
Categories: Free Samples For Men
More Free Samples In The Same Category
TOP 10 Exclusive FREE Samples