Get your FREE subscription to WATCH Magazine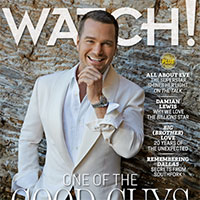 Get WATCH! Magazine for Free! And find out what other FREE magazines you can receive. Watch is the official magazine of CBS, a glossy, entertainment focused magazine that gives readers a window into the world of glamour and celebrity through their favorite stars. From revealing profiles of TV's biggest talents to behind the scenes features, Watch goes where no other magazine can. Get your free 1-year subscription today!
Categories: Free Catalogs and Magazines Free Magazines
How can I get this FREE sample?
The only thing you need to do in order to get your free subscription to watch magazine, is simply click "Get a FREEBIE," and the free offer will be opened in a new tab.
Just follow the instructions provided by a company or brand, which is responsible for this free sample, and you will receive your free stuff right to your mailbox.
Disclaimer
Please note, TVGist is not responsible for free samples presented on the website. In order to get your free subscription to watch magazine you should visit the official website of the company, which is fully responsible for the product delivery and its quality. Our mission is to provide you actual links to the free stuff. You need to follow the instructions provided on the official website of the manufacturer of the free sample you desire to obtain. If the free sample delivered to you didn't match your needs, please contact the company, brand, or manufacturer, which is responsible for their products.
More Free Samples In the "Free Magazines" Category
TOP 12 Exclusive FREE Samples