Get Your FREE sample of Flexitol Urea Heel Balm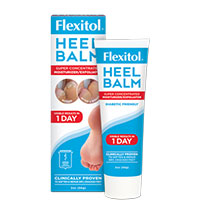 SIGN UP TO RECEIVE A FREE SAMPLE OF FLEXITOL 25% UREA HEEL BALM. Flexitol 25% Urea Heel Balm is a medically proven treatment for dry and cracked heels and feet, and is suitable for people with diabetes.
If you have diabetes, it is essential to look after the condition of your feet. Dry and cracked foot skin can lead to infection, callus and ulcers, which can ultimately result in amputation.
Complete the form below to receive a free sample of Flexitol 25% Urea Heel Balm. After using the product once a day for 14 days, complete a survey on your experience.
Categories: Free Health Samples UK Free Samples
How can I get this FREE sample?
The only thing you need to do in order to get your free sample of flexitol urea heel balm, is simply click "Get a FREEBIE," and the free offer will be opened in a new tab.
Just follow the instructions provided by a company or brand, which is responsible for this free sample, and you will receive your free stuff right to your mailbox.
More Free Samples In The Same Category
TOP 10 Exclusive FREE Samples