Get your FREE Ocean Mist Cosmetics Mineral Makeup Sampler Kit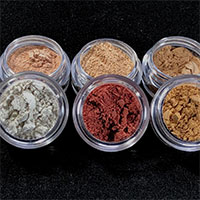 "Try Me Kit" Free Mineral Makeup Sampler Kit. Help us keep prices low by only ordering ONE FREE SAMPLER KIT PER CUSTOMER PER ORDER PLEASE! If you want to order more than one sampler kit per order please order one kit here and then go to the SETS & KITS category and select the Try Me Kit for customers who want more than one sampler kit for the second kit or third kit or more kits. Thanks!
Now you can see how wonderful mineral makeup is without breaking the bank! Yes with just a small shipping and handling fee you can try the sampler kit.
You will receive the following products in the "Try Me" sampler kit:
3 mineral foundation colors
1 concealer/corrector
1 blush/luminous powder
1 finishing powder
The Sampler Kit will come in 5g jars without sifters.
Categories: Free Samples For Women Free Beauty Samples Free Makeup Samples Free Cosmetic Samples
More Free Samples In The Same Category
TOP 10 Exclusive FREE Samples