Get Your FREE Nguyen Coffee Sample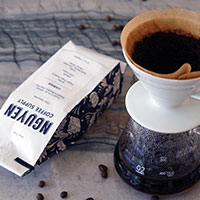 Complete the form below to order your coffee samples & free stickers. REQUEST A FREE SAMPLE.
Nguyen Coffee Supply is expanding third-wave coffee culture by celebrating diversity in the coffee community, offering ethically sourced organic beans, and championing the people behind the world's second largest coffee production. The brand slogan, "For the People's Grind," reflects our mission to inspire and fuel the universal grind. For everything you're hustling on, we're here to help. Join the Vietnamese Coffee Movement and let's create a world of new possibilities together.
Categories: Free Food and Drink Samples
More Free Samples In The Same Category
TOP 10 Exclusive FREE Samples