Get a chance to receive your FREE Coffee Booster Sample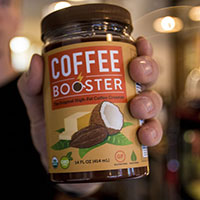 Coffee Booster - Free Sample. We are currently out of free samples. Completion of this survey will put you in line to receive samples once they become available again. Despite the fact they're out of samples, you still have a chance to receive their FREE samples.
Coffee Booster is a blend of grass-fed ghee, virgin-pressed coconut oil, and raw cacao powder. Coffee Booster only contains the highest quality ingredients possible, designed to give you the most delicious experience possible while incorporating more high quality fats into your diet.
Categories: Free Food and Drink Samples
More Free Samples In The Same Category
TOP 10 Exclusive FREE Samples