Claim Your FREE Lifeline Skin Care Sample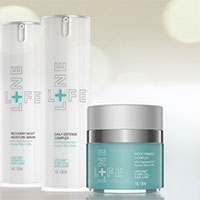 SAMPLE LIFELINE SKIN CARE. Lifeline Skin Care creates the only skin care products in the world with peptides derived from pluripotent non-embryonic human stem cells. Powerful nutrients are incorporated with this technology to dramatically reduce the visible signs of aging. We invite you to experience Lifeline Skin Care before making a commitment. We're happy to provide samples that will help you decide. Feel the difference stem cell technology can make on your skin. Try it now, no obligation, no automatic-reorders.
Warning! At this time free samples can only be mailed within the United States from this form. Please do not complete the form if you have an international address.
Categories: Free Samples For Women Free Skincare Samples
More Free Samples In The Same Category
TOP 10 Exclusive FREE Samples