Claim Your FREE Almost Skateboards Sticker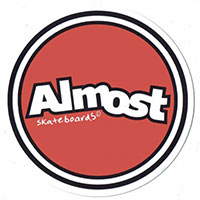 In order to get your free stuff, you should visit the Almost Skateboards website. Next, go to the contact page, and fill the form labeled "STICKER REQUEST ONLY." Click the "Submit" button and you've done.
Almost Skateboards is a U.S. skateboard company founded by professional skateboarders and business partners, Daewon Song and Rodney Mullen. The company manufactures skateboard decks using 7-ply, 8-ply, and carbon fiber constructions, while the decks are bound with resin epoxy glue.
Categories: Free Magnets and Stickers
How can I get this FREE sample?
The only thing you need to do in order to claim your free almost skateboards sticker, is simply click "Get a FREEBIE," and the free offer will be opened in a new tab.
Just follow the instructions provided by a company or brand, which is responsible for this free sample, and you will receive your free stuff right to your mailbox.
More Free Samples In The Same Category
TOP 10 Exclusive FREE Samples